MTB DISTRIBUTES 50 BICYCLES AMONGST MERITORIOUS STUDENTS OF KHULNA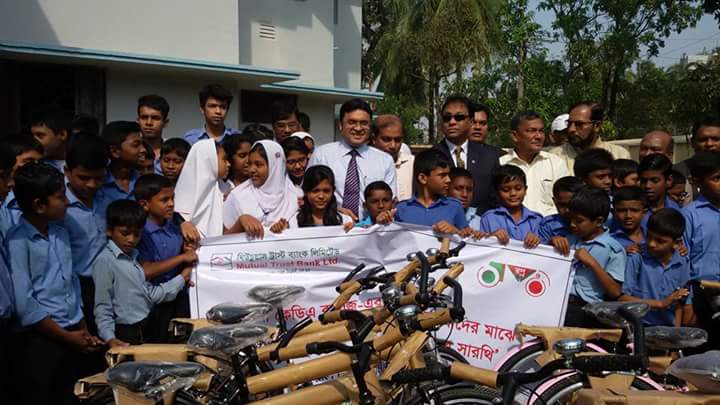 As part of the bank's special CSR campaign titled "Swapno Sarathi", for underprivileged meritorious students, Mutual Trust Bank Ltd. (MTB) recently distributed fifty bicycles amongst the students of KDA School and College, Khulna. Brigadier General Md. Ahsanul Huq Miah, NDC, Chairman, Khulna Development Authority (KDA), Azad Shamsi, Head of Other Division Branches of MTB, local elite, people from different strata, managers of nearby MTB branches, other senior officials of MTB, teachers, students and their guardians were also present at the occasion.
MTB, with a view to nurturing the education sector, especially in the rural hard-to-reach areas, launched "Swapno Sarathi" in 2015. Under this campaign, more than one thousand bicycles have already been distributed in different regions of the country namely: Panchagar, Bogra, Dhorkora Bazar, Dinajpur, Joypurhat, Kadair Bazar, Ramchandrapur Bazar, Rangpur, Sirajganj, Thakurgaon, Lalmonirhat, Tangail, Comilla, Ishwardi and Feni in addition to different former enclaves of Bangladesh.