Md. Bakhteyer Hossain
Deputy Managing Director & COO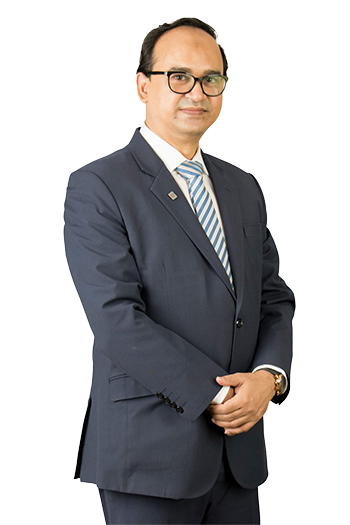 Mr. Hossain is a seasoned banker with over twenty-eight years of banking experience with specialization in International Trade. He is currently the Chief Operating Officer of Mutual Trust Bank Limited (MTB). Before this role, he was heading MTB Transaction Banking, MTB International Trade Services (MITS) and Offshore Banking Division of Mutual Trust Bank Limited (MTB).
As a part of his portfolio in MTB, he looked after the Transaction Banking Division (which comprises of MTB Non-Resident Banking, Trade Sales, MTB Cash Management, MTB Public Sector Banking, Airport Foreign Exchange Booths & MTB Factoring Services Department), Global Financial Institutions, Offshore Banking Unit (operations), SWIFT and MNC Banking (which includes FDI Help Desk & China Desk). He also looked after the centralized Trade Services Operations of the Bank for the last 11 (eleven) years. He was the project lead of the centralization project of the Trade Operations of MTB, implemented in the year 2011.
Being an MBA from Australia, with 3 (three) specializations [in International Business, Finance & Banking and Strategic Human Resources Management (SHRM)], Mr. Hossain has also done his Masters of Sciences (MSc) from The University of Dhaka in Geography & Environmental Science.
He set the benchmark for trade finance professionals of Bangladesh, when he pursued country's first Certified Documentary Credit Specialist (CDCS) credential, in the year 2000. In September 2016, the London Institute of Banking & Finance (LIBF), UK, honored him with the title "CDCS Advocate (CDCSAdv)", in an august event, held at the London Guildhall, as one of the first 5 (five) senior documentary credit professionals in the world. In the year 2020, the LIBF, UK, awarded him the "Diploma for Qualified Trade Finance Specialist (QTFS)" after he qualified for the "Certificate in Trade Finance Compliance" exam.
He has obtained diploma in International Trade Finance from the London Institute of Banking & Finance (LIBF), U.K., and Graduated in International Trade Specialist (ITS), from The Electronic Business School of Ireland (eBSI). Mr. Hossain has qualified as the Certified Trade Finance Professional (CTFP) by International Chamber of Commerce (ICC), Paris, France. He served as the mentor of Finance of International Trade (FIT) & UCP600 – an IFC-FIT initiative in Bangladesh.
He is the member of number of committees at local trade bodies and in international trade wings, including but not limited to, in the Panel of experts of ICC Documentary Instruments Dispute Resolution Expertise (DOCDEX) Services of International Chamber of Commerce (ICC), Paris, France, member of ICC Banking Commission – Bangladesh and Export Sub-Committee of the oldest business body of Bangladesh, the Metropolitan Chamber of Commerce and Industry (MCCI), Dhaka, Bangladesh. He is also a member of London Institute of Banking & Finance (LIBF), London, UK and Graduate Management Association of Australia (GMAA) Inc.
He visited number of countries and participated in various conferences, seminars, workshops and training programmes on Leadership, International Trade and Global Correspondent Banking, at home and in abroad.